Hiroshima Symphony Orchestra "Music for Peace !"
At Hiroshima: The leaflet (left) and the program (right).
♪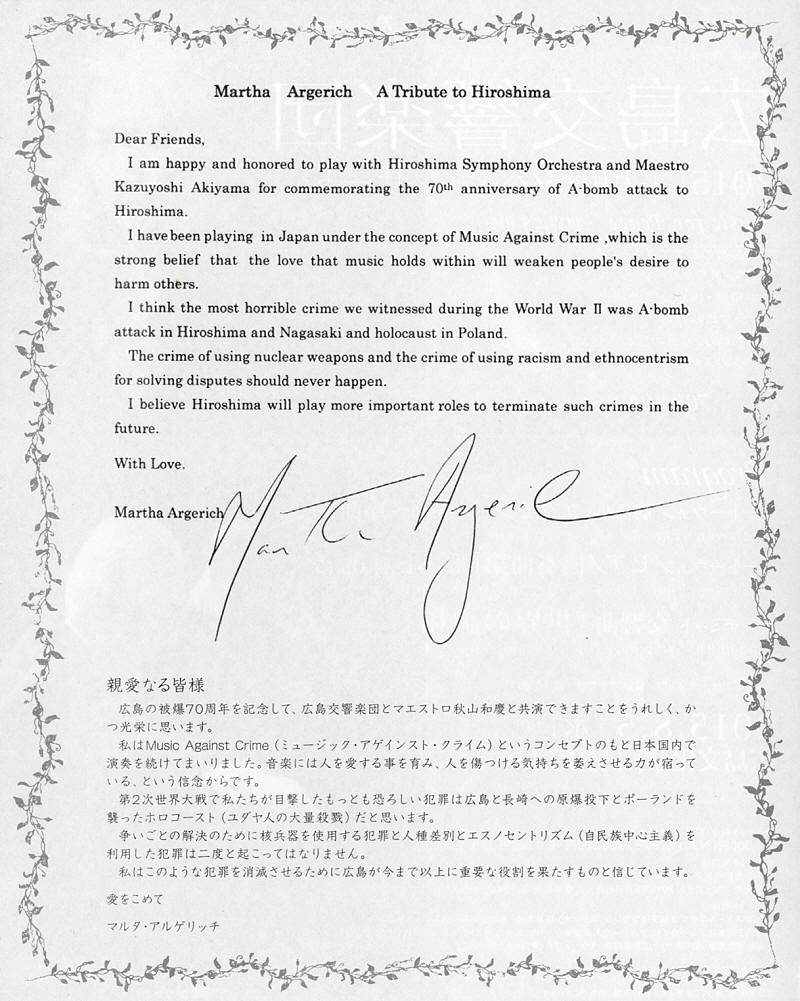 From the leaflet.
5 August (WED) 18:45 - Hiroshima/Hiroshima Bunka Gakuen HBG Hall
 1. Beethoven Egmont Overture Op.84
  2. Charles Reznikoff "Holocaust" excerps (translated by Keiichiro Hirano)
      Recitation: Annie Dutoit/Keiichiro Hirano
  3. Beethoven Piano Concerto No.1 in C major, Op.15
      ---encore---
  4. Schumann Fantasiestrücke, Op.12 - 7.Traumes Wirren
      ---Interval---
  5. Tamiki Hara "Recuiem" excerps
      Recitation: Keiichiro Hirano/Annie Dutoit
  6. Hindemith Symphony "Die Harmonie der Welt"
      Kzuyoshi Akiyama/Hiroshima Symphony Orchestra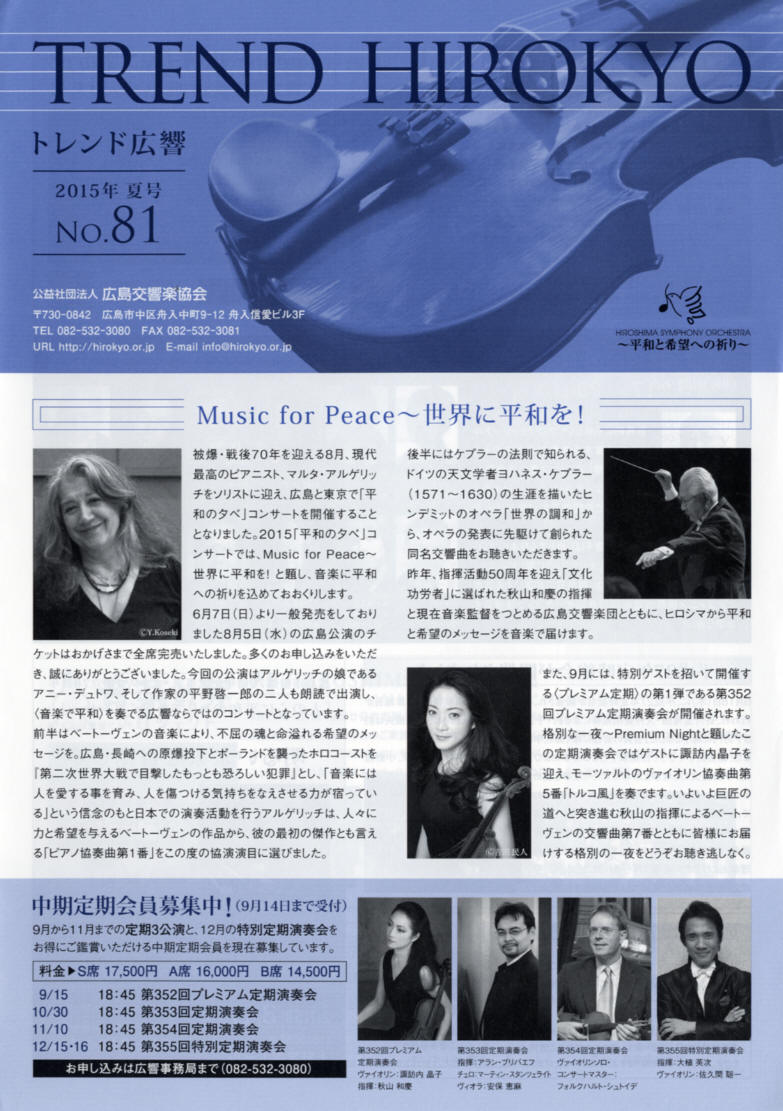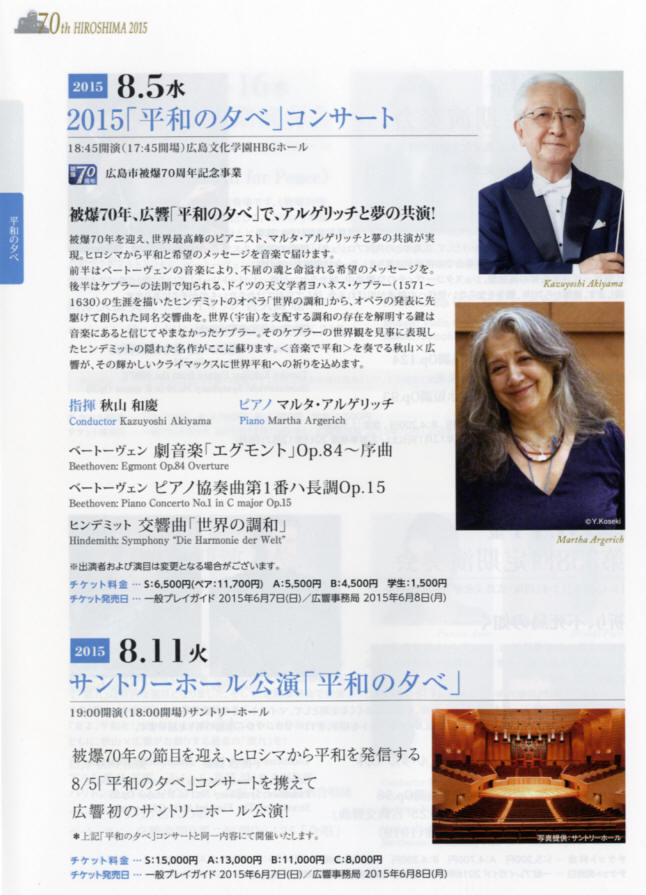 From the TREND HIROKYO (left) and the Year Book of Hiroshima Symphony Orchestra (right).
♪
At Tokyo: The leaflet (left) and the program (right).
11 August (TUE) 19:00 -  Tokyo/Suntory Hall
 1. Beethoven Egmont Overture Op.84
  2. Charles Reznikoff "Holocaust" excerps (translated by Keiichiro Hirano)
      Recitation: Annie Dutoit/Keiichiro Hirano
  3. Hindemith Symphony "Die Harmonie der Welt"
      ---Interval---
  4. Tamiki Hara "Recuiem" excerps
      Recitation: Keiichiro Hirano/Annie Dutoit
  5. Beethoven Piano Concerto No.1 in C major, Op.15
      ---encore---
  6. Beethoven Piano Concerto No.1 in C major, Op.15 - 3rd movement: Allegro
      Kzuyoshi Akiyama/Hiroshima Symphony Orchestra
 ♪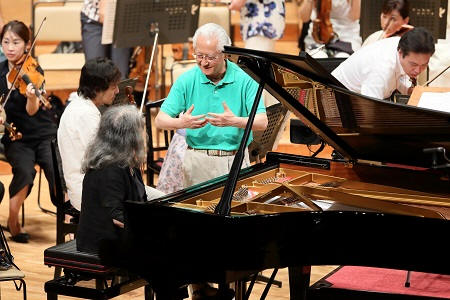 © Yu K
"I think this is my fifth time, no, perhaps sixth time, in Hiroshima," she says happily after her performance. "I love the people here." Indeed, it is the sixth time Martha Argerich has come to Japan, including her concert in Kure in 1994. She has an impressive memory. However, why did she choose to come to Hiroshima, when she was originally scheduled to give a concert in Europe, and had even accepted a request to be a judge in an international piano competition? What motivated her?
The Hiroshima concert was held on August 5, the day before the 70th year of the atomic bombing. The two types of atomic bombs that were invented at the time were tested on Japan—the uranium bomb on Hiroshima and the plutonium bomb on Nagasaki. The United States certainly had a desire to take the initiative in handling the post-war situation, but more than anything, it clearly wished to test the powers of the two atomic bombs. To measure the powers of the bombs by the degree of destruction they wrought to buildings, the U.S. carefully selected cities that had escaped air raids, and sent in an investigation team to gather data, immediately after dropping the bombs.
At the Hiroshima Peace Memorial Museum, I laid my eyes on a model of Hiroshima City then and a diorama of a fireball 600 meters above the city where the bomb exploded, and was filled with fury at what I felt was a completely unforgiveable act. Instead of exploding on the ground, the bomb exploded 600 meters in the sky, where it mercilessly guaranteed the greatest destruction. I couldn't stop trembling with horror as I thought of the crowds of local citizens who had begun a new day without a clue as to what was about to happen, under that fireball. The bombing was clearly a human experiment, or rather, an animal experiment.
The U.S. at the time more than discriminated against the Japanese; it probably regarded the Japanese people as being no better than miserable animals. Japan probably also saw the U.S. in the same light, and would have dropped a bomb, or many bombs for that matter, on the U.S. without hesitation, if it had possessed any. That is what war is about. Had Japan and the U.S. been in opposite positions, Japan probably would have first and foremost air-raided Kyoto and Nara, and the view that "no atomic bomb should not be used; war can be brought to an end without it" probably would not have emerged in Japan before it were actually used.
I heard a story from a man who was right below the fireball. In the morning, he heard a loud pop like a balloon bursting, and before he knew it, his house had collapsed on top of him. When we think of an atomic bomb, we tend to imagine a tremendous roar and rumbling of the earth, but these are sounds of buildings collapsing in a bomb blast. The sound of a mid-air nuclear explosion itself seems to be a dry sound. The man heard this dry sound, because he was directly below the explosion. "It was pure hell…," he continued. He was fortunately protected by the walls of his house and escaped immediate death, but has suffered aftereffects for many decades thereafter. What came forth from his mouth is impossible to put in writing. Nothing is more convincing than a story that is heard directly from a survivor. Even the testimonies of Iwojima survivors are far more horrific than anything that is depicted in movies.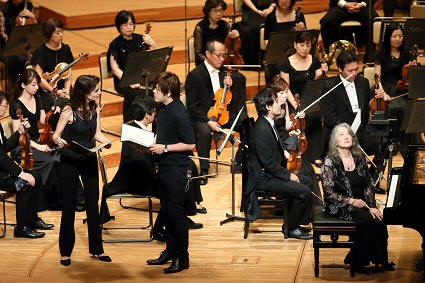 © Yu K
The concert included a reading of poems about Auschwitz. Annie's reading was remarkable, causing images to fly deep into my heart. I visited the Auschwitz-Birkenau State Museum when I went to listen to the third round of the International Chopin Piano Competition in 2010. There, I met a Japanese guide named Mr. Nakatani, and was stunned by a startling experience. I deeply wish people from all over the world would spare their time to make a visit, to see for themselves how horrific the holocaust was. I asked many questions, but the response to my question, "How do the Jews and Israeli react to German visitors to the museum?" remain most strongly in my mind.
The response was, "They do not look at German visitors with eyes of contempt or hatred, but with hopes that they will take a good look through the museum. It had probably taken courage to come here. So how can anyone hold them in contempt?"
In Japan, how are American visitors to the Hiroshima Peace Memorial Museum welcomed? I think this is the first step toward peace. Nuclear weapons could be eradicated if the world's politicians were decent people, but when we take a look around, there are so many poor-quality politicians, countries and organizations, that the situation seems almost hopeless. There are also too many things being sacrificed to maintain the system of a nation or administration, in the name of nationalism. Nationalism causes people to lose sight of the fact that their foe is human, has a family and lives a daily life. It even creates a climate in which the use of force is at times accepted as inevitable. If one lives in a country, sees the lifestyles of its people, finds cultural aspects that it can appreciate and has friends, there is no way a bomb could be dropped there. People who want to go to war should first try living on their own in the enemy's country. If they still want a war after that, they should do so in a closed and confined place with only themselves and their families.
It is strange how news of "accidental bombings" are reported in Japan. A bomb is accidentally dropped in an "accidental bombing"? This does not make any sense. It is not massacre, plain and simple? Such an expression seems to imply, for example, that the lives of 10,000 Arabs are worth less than the life of a single American. Or does racial discrimination lie at the root of the issue, after all? Whether those who are killed are private citizens or soldiers is irrelevant. Soldiers who are drafted into war are originally private citizens, all who have their own lives and families.
Not only nationalism, but religion and politics also reflect the instinct of humans as an organism—that is, the instinct for preservation of the species, fertility and family prosperity and self-defense. The notion of sacrifice being inevitable for dissemination and proselytization of democracy and socialism has been eternally repeated throughout history. The torture at Auschwitz was not inflicted by a particular kind of human being. In fact, in the Middle Ages, all kinds of torture were practiced in the name of religion, and there were many people who were even burned alive. An organism's self-defense instinct may at times regard organisms similar to itself as a danger and an object to be attacked, from the perspective of species preservation. This is even reflected in cases of bullying at school. We humans must not only learn from history, but must also understand that thoughts and actions are influenced by a biological instinct, or we will continue to repeat the same mistake.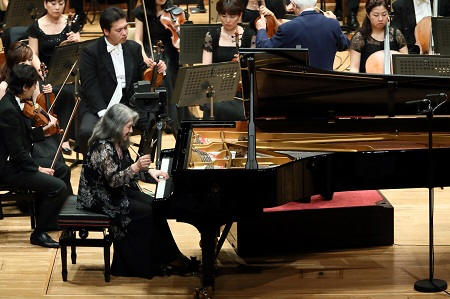 © Yu K
The concert opened with the Egmont Overture. Upon hearing the powerful strings at the beginning of the piece, I was moved by the extraordinary resolve and emotion of the Hiroshima Symphony Orchestra, and was literally riveted by its performance. The overture was followed by Beethoven Piano Concerto No.1. Argerich's adagio created an esoteric world that could even be described as divine. In these times when it is not unusual to see musicians playing difficult passages and pieces with verve and vitality, Argerich has naturally gone way beyond them long ago. There is really a very few number of musicians who can instill life into passages and monophonic melodies that are simple enough to be played even by people who have never learned piano, and have it heard as an eternal wave of music. Argerich does the same with the second movement of Chopin Piano Concerto No. 1 and the second movement of Ravel Piano Concerto. True to the title of this recent concert, "An Evening of Peace," Argerich's performance of the second movement precisely expressed a perpetually peaceful world. Or more so, her recapitulation of the theme of the second movement seemed to express a celestial afterworld.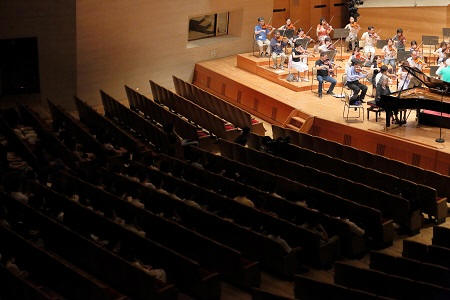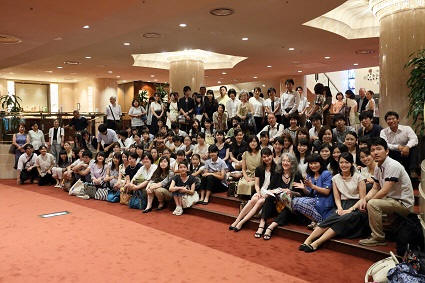 © Yu K
The Egmont Overture and Beethoven Piano Concerto No. 1 were pieces that were performed by Hiroshima Symphony Orchestra in its first regular concert held in April 1964. Beethoven Piano Concerto No. 1 was also a piece that Argerich performed with the orchestra club at Higashiyama Primary School in 2002 and 2003. Argerich has also performed Schumann Piano Concerto with Chiba Prefectural Boys and Girls Orchestra in 2010. These children, now adults, were invited to the rehearsal at Suntory Hall. It is needless to discuss what performing with Argerich and meeting her again meant to them. The concert was also attended by the Emperor and Empress. The Empress is known as an accomplished pianist, and has performed with many famous overseas musicians. She has also met with Argerich a number of times and established a close relationship.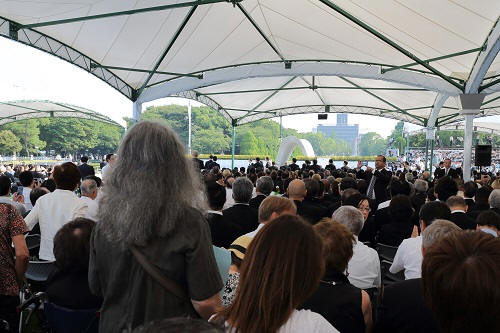 Argerich declared that she will take part in the peace memorial ceremony on the day after her Hiroshima concert. She is completely an evening person, sleeping at dawn and waking up in the afternoon. A rehearsal at 11 a.m. would have her protesting, "I'm still sleepy. I can't do this!" almost every other minute. However, she left her hotel at 7 a.m. and headed to the ceremony venue. After she was guided to her seat, she fixed her eyes on the memorial at the front and stood absolutely still for a while. Perhaps she was praying.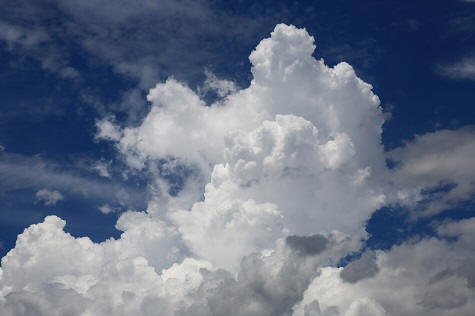 On my way home on the Shinkansen, I happened to encounter an impressive cumulonimbus cloud. It was a hot and dense summer this year, unlike any other.
* When I express an opinion related to political issues, there are people who react sharply, denouncing communists and rightists, but I am neither communist nor rightist. I am also neither anti-American nor a member of any organization whatsoever. However, what particularly concerns me is the low level of politicians throughout the world. I have an unlaughable joke about this. One time, when a person from a certain country said, "Politics in my country is terrible," I instantly responded, "No, Japan is worse." Then, another person from a different country commented, "What are you saying? My country is worse off," and yet another person, "No, no, my country is the worst!" No one would give in to the other. Then lastly, an American said, "Well, my country is led by Bush (the son)," and everyone finally agreed.
The current election system attracts mostly people who crave honor and people who are strongly self-assertive. When we look back at the Koizumi administration, it is clear that the election outcome was not a result based on substance, but impression. This is dreadful. What's more, none of the problems that were brought on by the misguided policies of that time have been addressed whatsoever. We should not forget that even Hitler was elected based on his popularity at the time. In Japan today, elderly people over the age of 65 account for a quarter of the total population and the numbers of people with dementia are expected to immensely increase hereafter, and yet, there are more than 700 Diet members, our greatest tax-eaters. In fact, even just recently, they squandered more than 60 billion yen so that the Liberal Democratic Party can have slightly more seats. It suffices to have 200 Diet members who can exercise sound judgment. Political parties are unnecessary. This would save 50 billion yen of wasteful spending per year, or 500 billion yen in ten years.
This is no time to be dumbfounded at the poor state of politics in neighboring countries. If a re-interpretation and application of the Constitution could allow Japan to have an army with a right to belligerency, Japan is not a law-governed country. Even while possessing a Constitution that forms the very foundation of the country, the reality of wily diplomacy is given priority in today's Japan. Essentially, politics must think about the people and serve the people, but throughout the world, people and politics are at odds in many countries. The conclusion has been evident since a long time ago, but it is unfortunate that the road is still far.
♪